Betye Saar. Faith Ringgold. Mickalene Thomas. Julie Mehretu. Simone Leigh. Jordan Casteel. These are only a few of the Black women artists who have recently exhibited in the nation's largest museums, like the Museum of Modern Art, the Whitney Museum of American Art, the Guggenheim, and the Getty. But long before, it was the Studio Museum in Harlem that had the foresight and intuition to show their work, linking these women both to one another and to generations of Black artists, curators, and critics who have helped reshape American art history over the past 50 years.
Located on Harlem's famed 125th Street, with Adam Clayton Powell Jr. Boulevard on one side and Lenox Avenue on the other, the physical building that houses the Studio Museum has been closed since 2018 due to a $175 million multi-year expansion project. (Part of the collection has been touring nationally in the show "Black Refractions.") The museum's new five-story structure, designed by Ghanaian British architect Sir David Adjaye, will more than double its exhibition space. But that space will still represent only a sliver of the Studio Museum's cultural impact and influence on how people—as well as elite art museums—have come to understand and relate to African diasporic art.
Since its founding in 1968, the Studio Museum has cultivated some of the most lively debates, thrilling exhibitions, and boldest innovators of Black art that our country has ever seen. Before then, Black artists in New York primarily had to rely for exposure on the city's predominantly white-led museums or the bohemian galleries in Greenwich Village, which largely ignored or marginalized them. "There was so much racism going on at the time. And sexism. It was hard," says Faith Ringgold, the 90-year-old Harlem-born artist, whose seminal 1967 painting, American People Series #20: Die, a devastating response to the racial violence and bloodshed in the country during that period, now hangs at MoMA. "The struggle was deep."
In the late 1960s and '70s, Ringgold organized protests against MoMA, the Whitney, and other institutions for excluding the works of artists of color and women—specifically, Black women. Against that backdrop, Ringgold, who had her first retrospective in New York at the Studio Museum in 1984, knew how important it was for Black artists to have a museum of their own. "It was certainly very exciting, because I was born and raised in Harlem," she recalled. "It was a big thing for me." Originally conceived in 1965, at the height of the civil rights movement, the Studio Museum was at first envisioned as an expression of interracial optimism. This was in part due to a coalition of Black and white artists, philanthropists, activists, and educators who had lobbied for the creation of an art space in Harlem to rival the downtown venues—among them Betty Blayton-Taylor, Carter Burden, Frank Donnelly, Charles Inniss, Eleanor Holmes Norton, and Campbell Wylly. But the museum was also designed to be connected to the community and operate, at least initially, without curators—only directors—which challenged the elitism and hierarchical structures of the art world. "What our founders were creating was very much a bold experiment around the redefinition of the museum," said Thelma Golden, the Studio Museum's director and chief curator, who has overseen its exhibitions and programs since 2000. "This idea of calling the Studio Museum a 'museum' was about expanding what a museum is and can be."
However, by September 1968, when the Studio Museum finally opened in a loft space at 2033 Fifth Avenue, just north of its current location, the mood in the United States in general—and Black America, in particular—had changed drastically. That April, Dr. Martin Luther King, Jr., was assassinated in Memphis, and for many, his Dream died with him. The result: Charles Inniss, who became the museum's first director, found himself at the epicenter of heated debates around African American art at the dawn of the Black Power movement. There's still no consensus on whether or not a Black guest at the Studio Museum's first show, Tom Lloyd's "Electronic Refractions II," merely hit the protective glass surrounding one of Lloyd's pieces or destroyed one or two of them entirely. Either way, by most accounts, many actual members of the Harlem community were disappointed by Lloyd's electronically programmed sculptures composed of colored light bulbs, which recalled traffic lights and theater marquees.
At a moment when the Black Arts Movement, the aesthetic sister to Black Power, was emphasizing figurative art and realistic representations of Black people and their bodies, Lloyd's show seemed terribly out of sync. For others, though, abstraction was a radical re-envisioning of form and identity, and enabled Black artists to upset the very categories of race that had oppressed them. From its infancy, the Studio Museum enabled these conversations and aesthetic movements to coexist. By the late 1970s, it also became a space where Black women would take the helm, including the three directors who preceded Golden: Mary Schmidt Campbell, Kinshasha Holman Conwill, and Lowery Stokes Sims.
"Our founders, in a very distinct way, did not want to do the narrowing that was done by the mainstream and say, 'This is what Black art is,'" Golden said. "I think that's because in the culture we see that we exist in our multitudes." She continued, "It's not to say that there weren't aesthetic arguments and these deeply held beliefs that then were in contest with each other. But the physical space of the museum and then the intellectual space that was bound to that was one that was wide and had room for all of it."
In 2001, Leslie Hewitt attended the first of the museum's signature "F-Show" exhibitions, "Freestyle," which was curated by Golden and is now legendary. The show not only debuted the work of then emerging artists such as Sanford Biggers, Mark Bradford, Rashid Johnson, and Julie Mehretu, it also introduced the notion of "post-Black" art, a concept that actively rejected the idea that there is one way of looking at Blackness. "Freestyle" and that era were transformative for Hewitt's practice, which blends sculpture and photography. "The 'Freestyle' show had so many different forms and arguments that the artists were making in their work. It was just so varied," she said. "Within the structure of an institution like a museum to not see a monolith [of Black life] presented but an active decentering of what that means was exciting for me to see as an artist."
In 2007, Hewitt was accepted into the Studio Museum's renowned artist-in-residence program, a coveted 11-month residency for early-career Black and Afro-Latinx artists. The program's alumni list includes David Hammons, Kerry James Marshall, Adam Pendleton, Kehinde Wiley, and many of the women artists featured here, making it an institution all its own. Hewitt remembered looking out the window of her studio onto 125th Street and feeding off the energy. "You can't help but think of Roy DeCarava," she said, recalling the photographer whose images of artists and musicians captured the spirit of Harlem in the 1940s and 1950s.
Painter Jordan Casteel, who began her own residency at the Studio Museum in 2015, knew she wanted to join the program after finding out that artists like Wiley and Mickalene Thomas had been through it. What Casteel did not know was how much being in Harlem would influence her work. In graduate school, Casteel painted wall-size nudes of Black men with whom she was friends, but in her residency, she began to document the street vendors, restaurant owners, and residents whose lives animated the neighborhood. "The first time I went outside with a camera, it was not the easiest thing for me. I had to get over my own introversion to introduce myself to people," Casteel said. "My understanding of how I relate to the world shifted in that moment. I realized and needed to become accessible to the community, and I needed that kind of reciprocation."
This past summer, as the Covid-19 pandemic disproportionately affected Harlem, and Black Lives Matter petitions and protests decried racism at leading cultural institutions, the Studio Museum's place as a home for Black artists, who have always been a catalyst for real justice and true racial equality in the U.S., became all the more crucial. "I think many Black and BIPOC-led institutions see this as a moment to further the understanding of our roles in our cultural communities," Golden said. "The Studio Museum was founded in a moment just like this, and I imagine there are organizations being founded right this moment in relation to what this recent history has brought to the cultural world."
"If there's a secret sauce, it's Black," said Naudline Pierre, a Haitian American painter who finished her residency at the Studio Museum last year. "It means that I can skip a layer of explaining my experience," Pierre said. "I can walk into a room and feel like I belong."
Ming Smith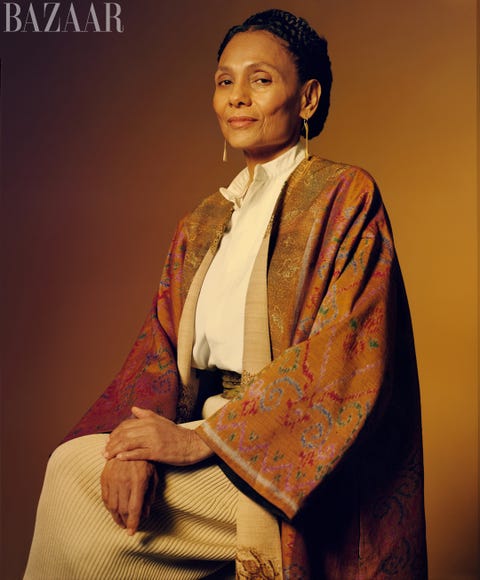 Dior coat, shirt, and scarf (worn as belt); The Row skirt; Smith's own earrings.
Since the late 1960s, Ming Smith has explored themes such as race, gender, and beauty in her photographs, performance portraits, and pictures of cultural figures like Nina Simone and Tina Turner. But Smith's work has also always powerfully captured what's unseen, and the social, emotional, and psychological narratives that hover behind images and beneath surfaces.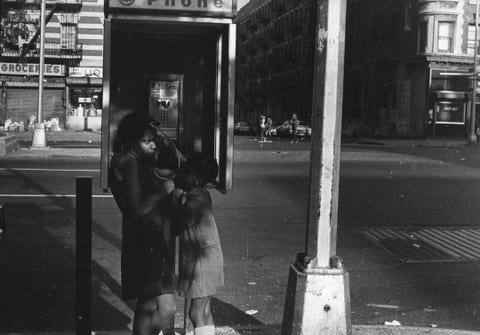 Ming Smith, Mother and Child, 1977. Vintage gelatin silver print, 11 × 14 in. The Studio Museum in Harlem; Museum purchase with funds provided by Betsy Witten, 2018.31
In the 1960s, Smith became affiliated with Kamoinge Workshop, a collective of Black photographers formed with the goal of documenting and expanding the dialogue around Black culture. When the group was the subject of a Studio Museum show in 1972, Smith was the lone female member. But seeing her work in that context at that time resonated with her deeply. "Showing at the Studio Museum is different, because it was one of the institutions you could always see and experience Black art," she says.
What interested Smith was that the museum didn't limit the art that was shown to any one perspective or element of the Black experience, but instead seemed to view it as something living, breathing, and forever evolving. It was an approach that always left room for new voices and ideas to enter the conversation, which she thinks is an important part of the Studio Museum's legacy.
"When I think of ancient Egypt handing knowledge to the Greeks and the Greeks influencing the Romans, and the Romans influencing the British, and the American Black musicians influencing rock and roll, blues and jazz, my work was and continues to be heavily influenced by the music and art I absorb," she says. "Legacy, to me, in terms of art, means to be influenced and to influence. Legacy is a gift."